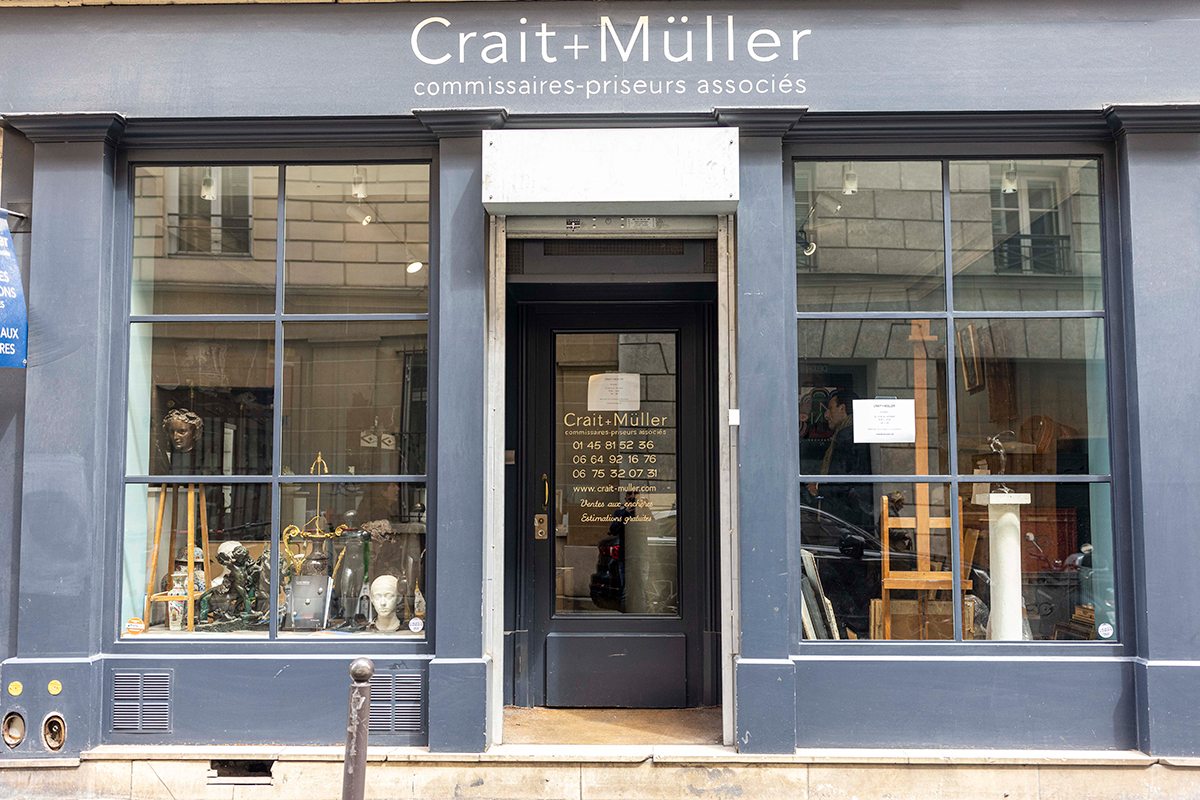 Our auction house : Discover Crait+Müller
Located in the rue de Provence, a stone's throw from the Hôtel Drouot and in the heart of the historic auction district, the Crait+Müller auction house was born of the association of two young auctioneers: Guillaume Crait and Thomas Müller. The mission of the auction house is twofold: in addition to offering for sale the quality works of art that have been entrusted to it, its ambition is also to pass on to a new generation of buyers the passion for collecting.
SCULPTURE
Crait+Müller owes its reputation and position as a specialist in the French art market to its sales of sculptures and artists' studios. Since its inaugural sale in 2016, which set the French auction record for a Rembrandt Bugatti bronze (1.2 million), Crait+Müller, located in the heart of the Drouot district, has become one of the leading Parisian auction houses for the sale of ancient and modern sculptures. We have auctioned works by Camille Claudel, Louis Dejean, Joseph-Antoine Bernard, Marcel Sandoz, Antoine Bourdelle, Auguste Rodin, Robert Wlerick, etc., which have been rewarded with high prices. We work in collaboration with Lacroix & Jeannest, a firm of experts for sculptures from the Middle Ages to the 19th century, and with Mathilde Desvages, an expert in 20th century sculpture, in order to guarantee our buyers and collectors the quality and authenticity of the works we offer at auction.
 
ATELIERS D'ARTISTES
L'étude a également développé les ventes d'ateliers d'artistes. Des collections familiales telles que celles de Margaret Cossaceanu Lavrillier ou de Pierre Bouret jusqu'aux oeuvres graphistes et abstraites de Jean Legros, Joël Froment et Walter Strack et d'artistes internationaux comme Leopoldo Torres-Agüero et Carlos Carnero : la dispersion de ces collections depuis plusieurs années en ont fait une des spécialités de l'étude.
ART MODERNE et CONTEMPORAIN
Dans chacune de nos ventes cataloguées - organisées plusieurs fois par an - nous dédions un chapitre aux artistes de 1900 à 1945, comme Marc Chagall, Tsugouharu Foujita, Henri Le Sidaner, Fernando Botero, … En collaboration avec le cabinet d'expertise Chanoit, nous estimons et expertisons gracieusement et en toute confidentialité vos œuvres modernes.
Nous organisons plusieurs ventes par an consacrées à l'art d'après-guerre et contemporain. Les acheteurs sont au rendez-vous pour ces ventes : Martin Barré, Olivier Debré, Jean Degottex, Robert Combas et bien d'autres sont appréciés par nos collectionneurs et ainsi récompensés par de beaux résultats.
Assistés de notre expert, Gilles Frassi, nous nous tenons à votre disposition pour toute expertise et estimation de vos œuvres et de vos collections. Nous travaillons également en étroite collaboration avec les ayants-droits ou spécialistes de certains artistes afin de garantir l'authenticité des œuvres auprès de nos acheteurs. Ces ventes, organisées à l'Hôtel Drouot, sont accompagnées par un catalogue détaillé et une communication adaptée, qui font le succès de cette spécialité.

MONTRES, BIJOUX ET ARGENTERIE
Travaillant en collaboration avec l'expert Paul-Louis Flandrin, nos ventes de bijoux, montres et argenterie sont reconnues et attendues par les vendeurs comme les acheteurs. Lacloche, Cartier, Van Cleef & Arpels, Boucheron, Belperron, Chaumet, mais également les créations d'Hermès ou de Tiffany, tout comme les diamants, les pierres précieuses et les perles fines : l'étude Crait+Müller propose aux enchères les bijoux des plus grands joailliers. Enfin les montres sont aussi l'objet de convoitise de nombreux acheteurs dans des ventes consacrées à des marques telles que Jaeger – Lecoultre, Omega ou Rolex.
ARTS CLASSIQUES
L'étude Crait+Müller organise plusieurs fois par an à l'hôtel Drouot des ventes aux enchères dans les domaines suivants : Arts d'Asie, Tableaux, Arts Décoratifs du XXe siècle & Design, Mobilier ancien, Objets d'Art, Livres & manuscrits, Vins et Spiritueux, Dessins, Photographie.
Assistés de nos experts, nous garantissons l'authenticité et la qualité des lots présentés.